Have you seen us?
We are excited about our February presence in Johns Creek! If you are driving around the area, be sure to look up! If you snap a picture of us, post it to Facebook and give us a tag, we'll send you a prize, so keep your eyes open!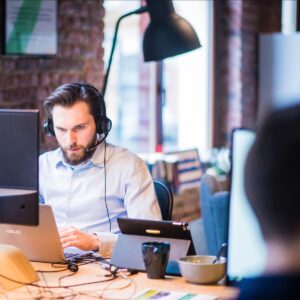 FoneLogix Feature
As part of our Hosted PBX & VoIP services, we offer a variety of features to enhance and streamline your business needs. The Call Recording and Listen Live functions are ideal for operational training and education purposes. They allow for process documentation and constructive feedback during new employee on-boarding or continuous training efforts. To view a full list of FoneLogix product features, click the link below.
Interested? Learn more or contact us!

Business tip
New year, new office? If you find yourself moving to new office space, be sure to let us know so we can ensure everything with your phone system is properly transferred, including equipment and new address location for your auto attendant and local emergency personnel.

Did you know…
…that we offer virtual support through our online Support Center and via the chat function on our website? The online Support Center offers a variety of "How to" documents and videos for you to access at your convenience.
For example, click here to learn how to view and download a recorded call.
Client Spotlight

Who is Atlantic Home Mortgage, and what can they do for you?
Atlantic Home Mortgage (AHM) is the epitome of innovative entrepreneurship. When you hear 'Atlantic Home Mortgage', you may think 'Okay, another mortgage company'… But that is far from the truth with AHM. What you may not realize is that AHM was created with the vision of creating a more efficient way for homebuyers to obtain a loan, and the vehicle to reach their vision is technology.
Atlantic Home Mortgage is led by two entrepreneurs, Tony Davis and Naveed Bhurgri, who merged their visions and passions together in 2019 with a focus on education and technology. When Tony and Naveed realized that there was no existing technology that fully supports their vision, it didn't stop them. Instead, they are now developing their own software that will make the mortgage application and home buying process as stress-free as possible for customers. One strategic approach their software will support is completing the underwriting process at the beginning of the home buying process. By using technology to do this, it reduces human error that commonly causes and misread of application information that could directly impact the client's ability to qualify for a loan, or not. Continue reading.
Learn more or contact Atlantic Home Mortgage today!