---
Who is Rich Hart Global?
Rich Hart Global, Inc is an enterprise like none other. It's a community where dreams are big, and possibilities are endless. Rich Hart , Owner, nationally recognized Speaker, Business Dynamics Coach, International Real Estate Broker/Instructor, and Wealth Consultant, brought his vision of communication, inspiration, technology and coaching to life through Evalucore Institute. Evalucore Institute was created as a place where individuals can share their story with the rest of the world and turn their dreams into a reality. It is equipped with the latest technology including podcast studios , webcast equipment, live recording capabilities, mainstage set up and more.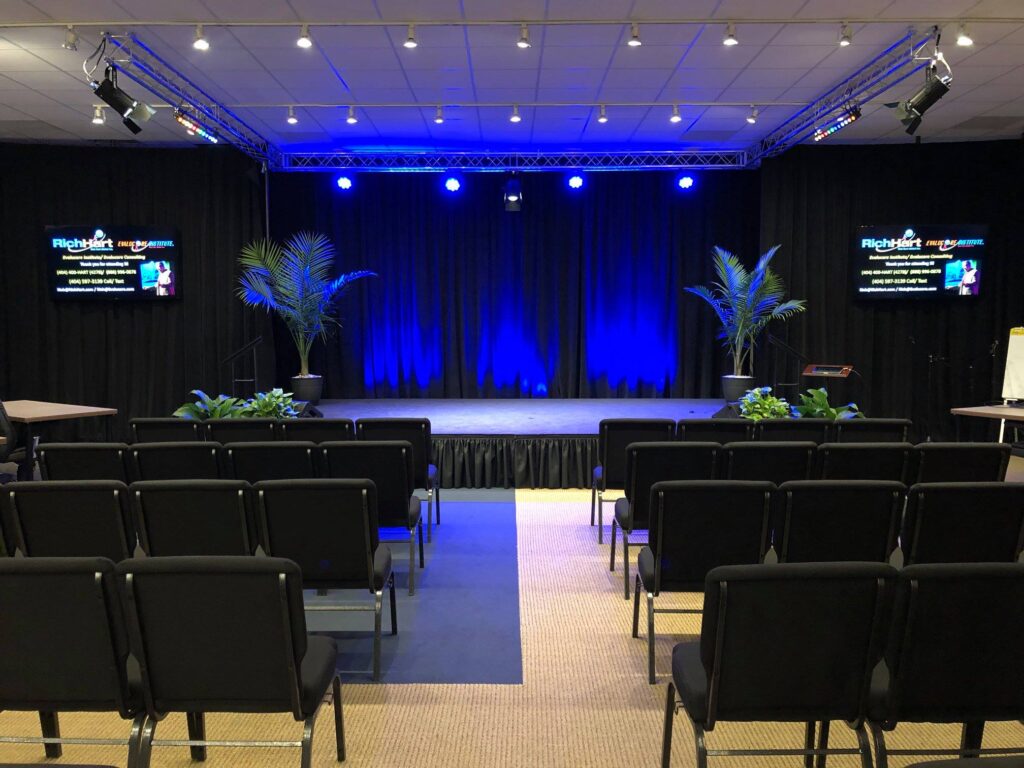 Imagine your favorite all-inclusive vacation where everything you could possibly need, is at your fingertips. Arguably, the most impressive part of this vacation is that the staff know exactly what you need before you do! With state-of-the-art amenities, high-class guest experience activities and the latest-and-greatest technology, there's never any (real) reason to leave the resort, right? Now, picture yourself in a state of the art studio and step into Evalucore Institute where you have everything you need to bring your dreams to reality. Pretty cool, huh?
"This location was set up because I got tired of individuals telling me they'd like to see my programs, but they had no place to do them. I got to a particular point where I wanted to give back more than I wanted to take. That's why 35% of the location is for me to use, and 65% is for everyone else."

– Rich Hart during our tour of the facility
During the tour of the facility, Rich told us the facility was created for the purpose of having a centralized corporate office space in the heart of Atlanta with the ability to assist others in designing and developing new communication and business resources that reach the rest of the world. By giving individuals a "virtual sandbox" , it allows them the opportunity to let their story take flight.
Tell us, why FoneLogix?
With all the up-to-date technology present throughout the facility, Rich had to make sure there was a dependable system supporting the technology. Rich stated that "FoneLogix won the contract because they brought a viable solution to the table that supplied the proper amount of fiber to support the technology needs we had and moved within a very quick time frame". The speed and agility it took to bring this solution is almost unheard of these days! FoneLogix was also able to install the wiring and connect the phone systems in the podcasting studio, allowing for incoming and outgoing calls during live shows. "Not only does FoneLogix meet our high expectations and technological needs, they do it with ease. Being a local company, it makes solving an issue much more convenient; we always know we will receive the support and high-level service required to fix the problem."
What makes Rich Hart Global unique?
"There is nothing like this studio in the entire country today, because of the type of services we offer and how we're doing it. We are teaching individuals how to communicate within the confines of what it is they want to accomplish," Rich told us. Rich Hart Global (Studios) allows speakers, business leaders and other professionals to develop the knowledge, tools, resources and skills that will help them deliver their message to their audience. "My challenge is to get it out there and to let people know that it exists."
What can Rich Hart Global do for you?
Whether an individual or a business, Rich Hart Global support the needs of its communities. If you are looking for a place to tell your story , need help developing your story (or content) into a finished product y, or you are part of an organization in need of space for a live company training event, breakout session or presentation rehearsal – Rich Hart Global and the Evalucore Institute is the sport for you. With access to 4K TV monitors, white boards, free Wi-Fi, staging and lighting, A/V and much more, Rich Hart Global studios promises your next LIVE event, podcast, webcast or training session will be a success. To learn more and see what Rich Hart can offer, contact them today!
---